I've got some major levels coming out soon!
Hey guys, its so good to be back. I have been working on a big level for around 3 months later thats expected to be out by Christmas Day. I still got some ways to go, but should be ready by then! Wow, it has been so tough! My biggest wish this Christmas is to get this coming level featured.
I've also get working on this super-destroyer car, that can destroy nearly anything.
 That level may be uploaded tomorrow or Christmas eve, depending apon how far I get tonight.  Lastly, I have started to work on a level with AI, a pogo vs segway race (inspired by IAmVeryBored). I have tested how the segway guy runs on his own, bit is a bit messy. I will try my best to fix that. Well, thanks for listening and MERRY CHRISTMAS!!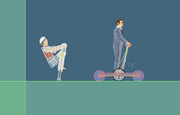 Ad blocker interference detected!
Wikia is a free-to-use site that makes money from advertising. We have a modified experience for viewers using ad blockers

Wikia is not accessible if you've made further modifications. Remove the custom ad blocker rule(s) and the page will load as expected.