Hi!
I found a way to add all your credits and comments in the blackhole!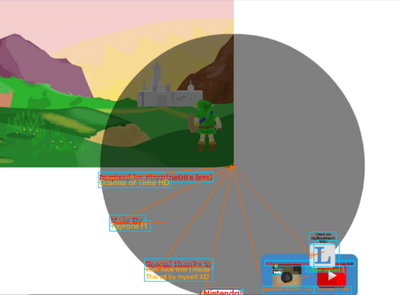 yes! do you see where this is going?
the credits will slowly roll in a curve.
Can you see how this is done?
all the groups in the opacitive black circle have a fixed angle,
and the circle is spinning slowly (motor speed -0.1)
this way you can put in lots of credits, and if the player failed to read everything, that doesn't matter, because the credits will just roll again!
the bigger the circle, tho more credits you can add!
it's very useful!
About the level. Gohma's battle is almost done!
after this, you will be able to leave the deku tree, and you will talk with him about the 'wicked man from the desert' and 'the princess of destiny'
and then you will leave the forest, with an ending scene with saria.
Ad blocker interference detected!
Wikia is a free-to-use site that makes money from advertising. We have a modified experience for viewers using ad blockers

Wikia is not accessible if you've made further modifications. Remove the custom ad blocker rule(s) and the page will load as expected.