So... lately i have been leaving HW a little bit. i am doing more art stuff now...
school has begun for a couple of weeks now, so i have to check on homework and such.... and... it's not going well..
happy wheels is too distracting for me to do homework. so i tried to continue art instead.... not much better...
i have not made ANY homework this year :S
well, if you're actually interested, i'll show you some of the art updates!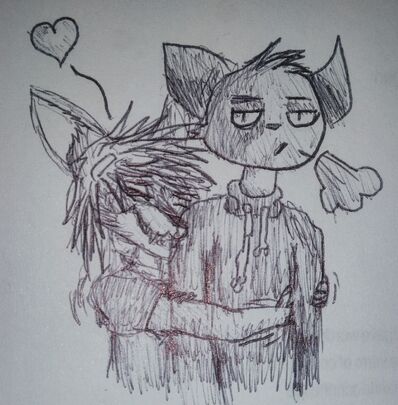 i made this during sociology class.
Next to my OC scotty, you see my new character!
i think she's cute xD she is Scotty's Stalker-Girl... Poor Scotty xD
Well, she doesn't have a name yet.
Some name suggests i got: Gabby, Roxy, Alexis...
Tell me which one do you think is the best, or suggest another name if you know a better one :)
she also doesn't have a color yet. 
My next Speedart on youtube is a traditional Digital speedart. Yes, Both! xD
you'll see my oversized hands drawing, and then i'll continue it in photoshop CC
i am still figuring out this whole program, so it might take a while. don't expect the speedart to be done anytime soon xDD
Ad blocker interference detected!
Wikia is a free-to-use site that makes money from advertising. We have a modified experience for viewers using ad blockers

Wikia is not accessible if you've made further modifications. Remove the custom ad blocker rule(s) and the page will load as expected.