Hey everyone, I am happy to say that I just reached 300 Youtube subscribers! Thank you everyone for subscribing! I could have never done it without your support, so to celebrate 300 subscribers, I decided to do a Q and A video, so I need your questions! Ask me anything about Happy Wheels, my channel, or anything else. I'm not sure when I'll do the answers video, I'll say about a week. I was happy when I got 30 subscribers, but 300 subscribers is unbelivable! Thank you everyone who subscribed!
See the 300 subscribers video on Youtube here: https://www.youtube.com/watch?v=vzVT51GXKtE
My channel: https://www.youtube.com/user/MrLarrythehacker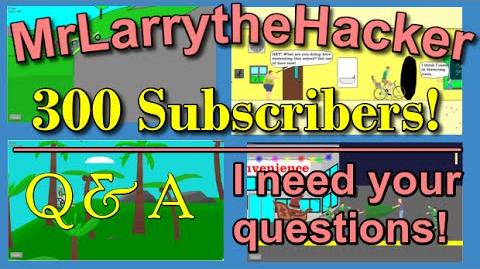 Ad blocker interference detected!
Wikia is a free-to-use site that makes money from advertising. We have a modified experience for viewers using ad blockers

Wikia is not accessible if you've made further modifications. Remove the custom ad blocker rule(s) and the page will load as expected.