The most good level persons who join my wiki first will be considered as VIPs.
Bigbloodhead
Wiki Host
BigBloodHead                                                                                          ⊷

VIP users

LWPeterson50
♦
Bobisdacool1                                                                                               ♦
GhaisHW                                                                                                      ♦
CrazyJohn Gaming               CL Event champion                                         ♦

4 out of 5 VIPs.
These are the Wiki VIPs.
Being a VIP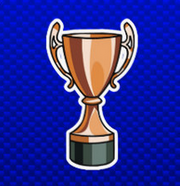 Currently, there are no VIP Perks yet. I will think about it.
To be a VIP,People must like your levels very much.You need:
More than 2 levels on this wiki
At least 200 wiki points
5 Comments of people who liked your level on 2 of your levels that you published on this wiki.
A vip Request
After that, an admin will see if you have all these conditions, and your done.
Send a Vip Request here .
Ad blocker interference detected!
Wikia is a free-to-use site that makes money from advertising. We have a modified experience for viewers using ad blockers

Wikia is not accessible if you've made further modifications. Remove the custom ad blocker rule(s) and the page will load as expected.