On the 28th of November a Happy Wheels Level Editor Team called: TheHWSquad published 7 Levels for the youtuber "Mattshea" andgot all levels on the first page of rating today.
Authors :
Tantastic
BobBiltonn
TheStressball
Baum_HD_
TechPlayHD
MeatPlay
happywheelstogether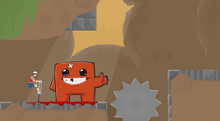 Ad blocker interference detected!
Wikia is a free-to-use site that makes money from advertising. We have a modified experience for viewers using ad blockers

Wikia is not accessible if you've made further modifications. Remove the custom ad blocker rule(s) and the page will load as expected.