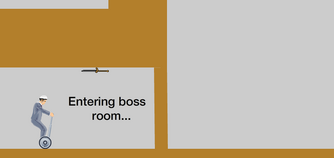 Super BossFight is a level by Bigbloodhead. It has 200+ plays, and a rating 2.71+ stars with 7 votes.
Info
This is the second boss BigBloodHead created,but first to have 9 life cubes. The first was thislittle boss, a wheelchair guy in a mech. However, it has only 3 lifes, and was the starting of BigBloodHead level evolution.
Gameplay/Walkthrough
You start with the text "Entering boss room...", a dagger,and another little text "see map" on your back. You are
 able to see the world map if go to the "see map", it has where you are <Blue> and where the boss is <red>. As you face Kholoth The Colossus, he'll not attack you until you hit the first green block at his chest. When you do that, he'll throw a fast ball in your direction, it will not hit you if you are in the air. You then pull a lever to the right, and then go back. He will try to strike you with falling blocks, and then you press a button where is near to the starting room. Then a block will fall,and quicker will try to kill you. There is a chance where you evade the block, but the door smash your head. You then hit his blue (Ice) bracelet, and he put an fake ice beam in your back, then throw another quick block. As you hit the red (fire) bracelet, he throws an yellow rotating fast block at you. After picking the dagger, the boss will be damages with two life points, that's the difference.You'll press a button near to the boss, and a slight transparent block will fall at you. You then rotate a valve, where is in the same place where the lever is. The level says to you check Kholoth, as you check him, he's dead, his body can't be seen anymore, and only the health bar will be empty and his name will be above it.
Trivia
23 triggers was used to create the level.
Some body parts can attack you, if you touch the middle of his body or his two hands, you'll probably lose your segway,and need to restart.
Every attack of the boss (cubes) has Density 100.
The sequel to this level is on this wiki.
Gallery
Videos
There are no gameplay videos yet.
Ad blocker interference detected!
Wikia is a free-to-use site that makes money from advertising. We have a modified experience for viewers using ad blockers

Wikia is not accessible if you've made further modifications. Remove the custom ad blocker rule(s) and the page will load as expected.