★ This level was chosen and it is one of the                     ★ 
 ★                                                                ★  
 ★               TOP 10 LEVELS!                                   ★
 ★ This level is one of the best levels of the wiki.              ★
 ★ Congratulations for the author.                                ★

x=|Speed Drive X|=x is a level by bobisdacool1. It currently has over 1,000,000 plays and a rating of 4.78 out of over 4,000 votes. The forced character is Segway Guy. It is a driving level.
Description
This is a highly detailed level, with custom-drawn cars, an office, a subway tunnel, and a desert landscape. You start out in Bob's Garage and have 4 cars to choose from: A Bugatti Veyron Grand Sport, a Chevrolet Camaro SS, a Ford Shelby Mustang, and a Lamborghini Aventador Spyder. Once you eject into one of the cars, you drive over a hill and jump through an office building, causing mayhem. After exiting the building, you do a loop and go upside-down through a subway tunnel. Then, you exit the tunnel and go down a rocky hill, passing a Dodge Charger SRT8 Police Car, starting a pursuit. You crash through some cacti, break through a Police Chevrolet Tahoe roadblock, and crash through a gas station before being picked up by a tornado. The tornado hurls you over a cliff, and the victory plays as you are taken to a black screen.
Trivia
-bobisdacool1's highest rated and most played level to date.
-This level was once the highest rated level in Happy Wheels. It is currently still in the top 10.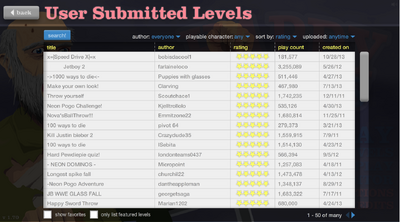 -There is a sequel to this level called Ultimate Speed Drive. There is also a prequel, Sports Car Test Lab.
-The 4 cars chosen in this level were the top picks from Sports Car Test Lab.