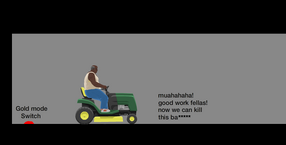 Kill J.B Koolness is a level by Bigbloodhead. It has a rating of 3.9 stars with over 4,100 plays.
Description
In this level, you are helped by various individuals (Including Jim Bonnaci) in ending the wretched existence of Justin Bieber and his fans. Kill him! Kill his brother! Kill him again! And then kill his fans! It's all for a good cause.
Acronyms
For people who don't know, the acronym 'JB' belongs to two different individuals in this level.
JB - Justin Bieber (Godawful Canadian pop-singer. Kill, oh god, kill!)
JB - Jim Bonacci   (Creator of Happy Wheels, he's cool. Don't kill him)
Ad blocker interference detected!
Wikia is a free-to-use site that makes money from advertising. We have a modified experience for viewers using ad blockers

Wikia is not accessible if you've made further modifications. Remove the custom ad blocker rule(s) and the page will load as expected.