Play:
https://totaljerkface.com/happy_wheels.tjf?level_id=9532173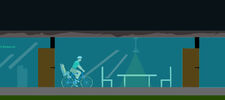 Happy Wheels Park 2 is a Park Level that you explore the park again.
You will start at the beginning (Related to original), you will continue to explore but there are 10 people around the park.
Ad blocker interference detected!
Wikia is a free-to-use site that makes money from advertising. We have a modified experience for viewers using ad blockers

Wikia is not accessible if you've made further modifications. Remove the custom ad blocker rule(s) and the page will load as expected.