FIRED - A Happy Show
FIRED - A Happy Show is TheRealThing76's best well-made level that was published on June 2, 2015. It currently has 20.9K plays and has a current rating of 4.52 (4.42 Weighted) with 190 votes.
A Skit Level
This level is an approximately 33-second comical skit about the main character,that is Irresponsible Dad talking to his boss (Moped Guy) in a random unsuccessful company in New York City. He losses it when Moped Man pronounces the word "fired".
[1] <- Play (Watch) FIRED - A Happy Show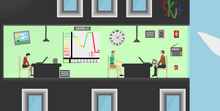 Ad blocker interference detected!
Wikia is a free-to-use site that makes money from advertising. We have a modified experience for viewers using ad blockers

Wikia is not accessible if you've made further modifications. Remove the custom ad blocker rule(s) and the page will load as expected.