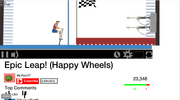 Needs trivia.
Epic Leap is a level by Mr.Pato77. It currently has 1,300 plays with a rating of 4.14 stars with 7 votes. The forced character is Pogostick Guy.
Description
You start with a Youtube screen between you,Spikes behind,a landmine on the top of a blue pillar corner.There are also spikes in the upside,and the left side.Two harpoons are placed inside the spikes,and a finish line in the other side. The text "Epic Leap! (Happy Wheels)" are in your downways. there are also a melon inside a pink box,a button with the text "Subscribe",and the number "2.945.673",to represent subscribers.The level has much aspects similar to the current YouTube.
Ad blocker interference detected!
Wikia is a free-to-use site that makes money from advertising. We have a modified experience for viewers using ad blockers

Wikia is not accessible if you've made further modifications. Remove the custom ad blocker rule(s) and the page will load as expected.