#Coca-Cola Course 2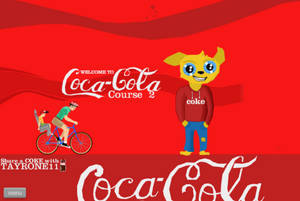 Comments
Tayrone11's mom bought me a coca cola mountainbike, That's pretty awesome!
Tayrone11 a fan of Coca-Cola so he made this level. I you search in the level browser
for 'coca cola', the only levels there exist in HW, are levels with throwin'
mentos in a coke bottle, and see brown colored circles coming out, So...
I thought if i make a REAL coke level, I would be the first one, and I am!
I worked a lot on it!
There is a hidden pepsi logo somewhere. Can you find it?
Info
It is a obstacle course, based on coca cola.
I'ts pretty hard too
part 2 is a lot easyer then the first one
Links:
Coca-Cola Course 2
http://totaljerkface.com/happy_wheels.tjf?level_id=6954000
and, this is the link to my original coke level
Ad blocker interference detected!
Wikia is a free-to-use site that makes money from advertising. We have a modified experience for viewers using ad blockers

Wikia is not accessible if you've made further modifications. Remove the custom ad blocker rule(s) and the page will load as expected.