A alien help is a level by BigBloodHead. It has a rating of 3.9 stars with 9 votes and over 4,500 plays. It is a mission level.
Description
The year is 2500. You have an alien race as allies. Your base is under attack, and you desperately need their help. But in order to recieve help, you must find the materials for a golden protective plate and send it to them, all while avoiding the oncoming base attackers.
Trivia
After the creation of the golden protective plate, it disappears and is technically placed on the sending dock, although you can still collide with the invisible plate on the ground.
If you go fast where the harpoons are, it is possible that you will dodge all the harpoons and survive.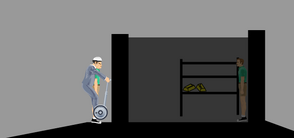 Gallery
Ad blocker interference detected!
Wikia is a free-to-use site that makes money from advertising. We have a modified experience for viewers using ad blockers

Wikia is not accessible if you've made further modifications. Remove the custom ad blocker rule(s) and the page will load as expected.