★ This level was chosen and it is one of the                     ★ 
 ★                                                                ★  
 ★               TOP 10 LEVELS!                                   ★
 ★ This level is one of the best levels of the wiki.              ★
 ★ Congratulations for the author.                                ★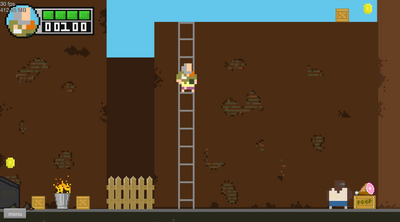 Information
Starving Hobo Is a pixelated hardly designed, featured level by Ghais. It has 1,500,000+ plays, with a rating of 4.49 stars, and 3000 votes.
Description
You start in a brown screen that tells you the controls, and the trophies that you can earn. In the bottom, it says hold space to start. After you hold space, You play as a pixelated Wheelchair Guy, which is designed to play a moving animation when you move right or left. You are in an alley, there are two boxes behind you, a trash can set to fire in the middle, and a big garbage on the left of them. Lawnmower Man is in front of you, and he has a meat chunk behind him. If you tried to pass through him to take the meat chunk, he will hit you causing you to lose some health from your health bar in the upper left, if you stepped on top of the burning trash can, you will lose health, too. So you have to climb the ladder, go to a box on top of the building, and throw it on Lawnmower Man's head, which will make him pass out, now you have a clear way to the meat chunk, but you can't climb down the ladder, you have to jump off the roof. You can collect 3 coins, which will increase your score, but if you didn't you will win anyways. Finally when you take the meat chunk, the victory screen will show up showing your score, coins, and the trophy you won. Wheelchair Guy is running holding the meat chunk over his head, and Lawnmower Man will follow him, until they get out of the screen.
If you died from the fire, or Lawnmower man's punch, the final screen will show up saying "YOU SUCK!", you won't get any trophies, and you will be lying on the ground, Lawnmower Man is standing on you, and holding the meat chunk with one hand.
Trivia
You will lose 50 points after 36 seconds and another 50 points after 40 seconds.
Gallery