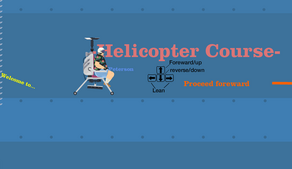 -Helicopter Course- is a level by LWPeterson and has over 9,000 plays with a rating of 3.80 stars with 20 votes.
Description
The level is not extremely detailed, but uses good use of sounds and other triggers. The level is extremely difficult and long, and takes a long time to beat. The level has 6 parts. The first part is where you need to bring Irresponsible Son back to his Irresponsible Dad, the second part is where you need to get through spikes which close in as you get further, the third part is where you need to bring a box up to the top of a building, with obstacles on the way, the fourth part is where you need to get though more obstacles, but horizontally. This is the most difficult part. The next part is where you need to dodge some blocks that come at you, and the last part is where you eject, and you go in a loop onto your propellers and a trigger causes you to win before you hit the helicopter propellers and die. You hit some NPC's and food items that also get cut up when you die.
Trivia
Currently the only level made by LWPeterson to be forced as Helicopter Man.
This level is in the Challenge List.
Gallery
Ad blocker interference detected!
Wikia is a free-to-use site that makes money from advertising. We have a modified experience for viewers using ad blockers

Wikia is not accessible if you've made further modifications. Remove the custom ad blocker rule(s) and the page will load as expected.