- BLUE WORLD -
is one of TheRealThing_76's best levels. It was released on June 17, 2014, has over 155,000 plays, has an average rating of 4.45 stars with a weighted rating of 4.43 stars, and over 990 people have voted. Irresponsible Dad is the forced character.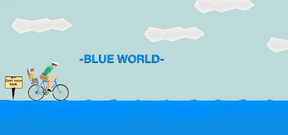 Description
This is a fairly short unique blue obstacle course. Its a challenging level for beginners.
Obstacles
Spikes
Land Mines
Falling spikes
Movable blocks
Gallery
Ad blocker interference detected!
Wikia is a free-to-use site that makes money from advertising. We have a modified experience for viewers using ad blockers

Wikia is not accessible if you've made further modifications. Remove the custom ad blocker rule(s) and the page will load as expected.